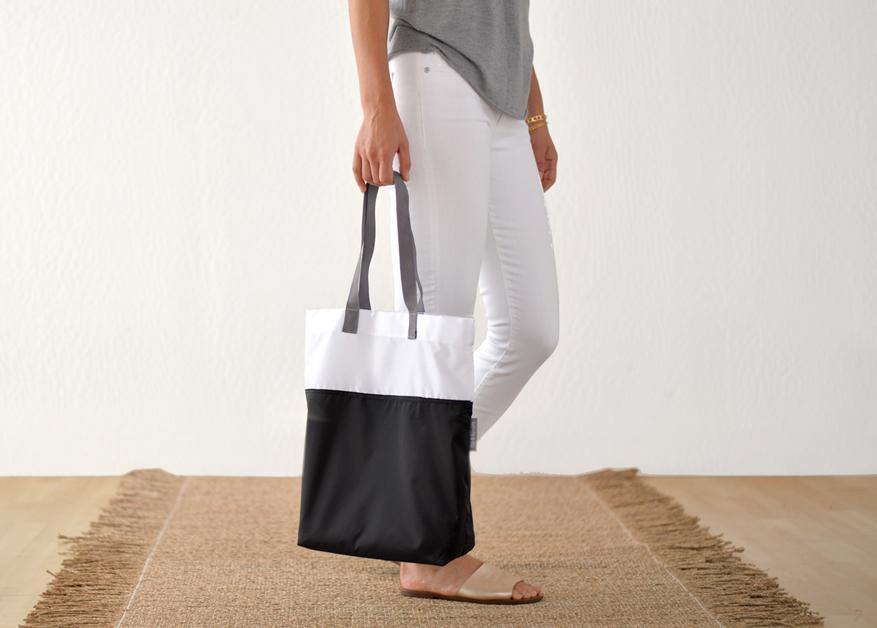 Introducing the New Flip & Tumble Reusable Tote Bags
We've been waiting on these new bags for a while and are so happy to say they've finally landed! Ready for purchase on our online store. Available in some fresh colour and are a super simple way to
ban the bag
in all aspects of your life. Here's a little breakdown on why we love this tote bag, that's jam-packed with features that make living sustainably so easy.
Integrated Pouch Pocket
The handy pouch pocket that you find inside the tote does double duty, acting as a nifty spot to stash your keys, wallet and phone. But it also houses your tote bag after you're finished using it. Simply fold it up into a small rectangle and keep it in your handbag, backpack, car or even in your pocket! It packs down to about a 12cm x 12cm square, making it easy to have handy for any impromptu occasion.
Made from Durable Ripstop Nylon
There often comes a time when your green Woolies bag starts to lose its shape and even tear a bit. We think that a reusable tote shouldn't sacrifice on quality and think that they should only be made from the best quality materials. That's why we love that the new Flip and Tumble bags, they are made from a heavy-duty ripstop nylon that's built to last and carry heavy loads. If you don't know much about ripstop, the name pretty much suggests it all. Designed to "stop rips" this reinforced nylon is constructed from very thick threads that have been interwoven in a cross-hatch pattern to ensure that the bag is not going to tear once filled with all your heavy fruit and veg during your weekly grocery shop. Each of these tote bags has a 15kg load capacity! Ripstop is often used for things like hot air balloons, kites and parachutes so it's a very reliable material that stands the test of time.
A Handy Travel Companion 
One of the best things that you can take travelling with you is a collapsible tote bag. It weighs hardly anything, takes up very little room inside your suitcase and is usually a treasured saviour during a trip where you just can't stop all that retail therapy! (Hmm...maybe packing a few of these into your travel bag isn't a bad idea!) Not only are these totes fantastic for unexpected souvenirs, they come in super handy when you're out exploring the local farmer's market, during a day trip to the beach or on a picnic with the family. The Flip & Tumble Reusable Tote Bags are also machine washable so just pop them in a cold wash if they get dirty along your travels, hand them to dry and you're all set for some more adventures!
 Shop the entire range at Upcycle Studio.